Sollicitatiebrief Engels
Hieronder treft u een Sollicitatiebrief Engels. Deze brief kunt u als opzetje gebruiken voor uw eigen sollicitatie voor de betreffende functie. Zorg ervoor dat de brief aansluit op het profiel, waarbij u op enthousiaste wijze een korte omschrijving geeft van uw profiel. 
In uw brief geeft u aan waarom u denkt aan te sluiten op het gevraagde profiel. Ook geeft u aan waarom u graag voor deze bepaalde organisatie wilt werken. Wat spreekt u aan aan de organisatie, aan de functie, enzovoorts. 

Voorbeeld sollicitatiebrief Engels
Bedrijfsnaam
T.a.v. contactpersoon vermeld op de vacature
Bedrijfstraat en nummer
Postcode en Plaats
Datum
Job application Manager

Dear Mr Jansen,
I am writing you regarding the vacant position for Manager at your company. I have 6 years experience in a similar position at .... company.  

After my University degree I have expended my knowledge and experiences as a manager. You can  see from my CV that I have a successful history of management in various industries. My professional experience as a manager as well as my education, have given me the skills and special motivation to the managers position.
The variation of the type of work at your company would be a delight to gain new experiences. Motivated, responsive an attentive, I am willing to invest and get training in new skills and knowledge.
I hope that you will find my expertise, interests and character intriguing enough to warrant a position in your company, as I am confident that I could provide value to you and your company as a member of your team.
I have attached my CV with this letter. Please let me know if I can provide you with any other information or references. I thank you for your time and I look forward to hearing from you.
Sincerely,
Naam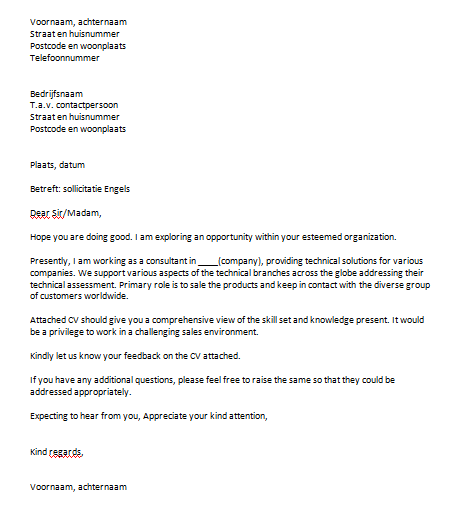 Openingszinnen van de sollicitatiebrief Engels

I am writing to introduce myself to you as a (functienaam)
I am writing to enquire about a possible opportunity for (omschrijving)
I am writing to you regarding the position for (functienaam)
(contactpersoon) suggested to contact you regarding the opening of (functienaam)
I wish to apply for the position of (functienaam)
In response to your advertisement I would like to apply to teh posiction of (functienaam)
With this letter I would like to inform about the possibility of (functienaam)
Slotzinnen sollicitatiebrief Engels

I am very eager to talk with you about
I would be more than happy to come for
I would be pleased to review my qualifications in more detail
I am enclosing a copy of my resume, which gives details of my qualifications and experience
I would appreciate the opportunity to come over
Hopefully you will be able to provide me with
Thank you for considering my application.
Download de voorbeeld sollicitatiebrief Engels (Manager) in Word. 
Zie ook de andere voorbeeld sollicitatiebrieven. 
Bekijk de actuele vacatures op werk.nl, indeed en monsterboard